Residential Services refer to a range of services and support provided to individuals in their homes. These services can include home security and automation, home theater and entertainment systems, home network setup and maintenance, and home computer repair and support. The goal of residential services is to make technology simple, accessible, and user-friendly for individuals, and to enhance their overall quality of life through the use of technology. Residential services can include both one-time installations and ongoing support, depending on the needs of the individual.
Laptop and Computer Repair
Laptop and Computer Repair refer to the process of fixing technical issues with laptops and desktop computers. This can include repairing hardware components such as the motherboard, hard drive, or display, as well as fixing software-related issues such as malware infections or operating system problems. Laptop and computer repair can be performed by in-house IT staff, external contractors, or specialized repair shops. Repair services can range from simple software troubleshooting to more complex hardware repairs, and may involve the replacement of components or the entire device.
Residential On-Site and In-Shop Services
Residential On-Site and In-Shop Services refer to the repair and support services offered to individuals for their personal technology devices such as computers, laptops, and smartphones. On-site services involve a technician visiting the individual's home to diagnose and repair the device, while in-shop services involve the individual bringing the device to a repair shop or retail store. The choice between on-site and in-shop services will often depend on the nature of the issue and the individual's personal preferences. On-site services provide the convenience of having the device repaired in the individual's own home, while in-shop services . environment.
Residential – Data Recovery
Office IT Maintenance and Support refers to the ongoing upkeep and support of a company's information technology systems to ensure they continue to operate efficiently and effectively. This includes tasks such as software and hardware updates, system backups, and troubleshooting any technical issues that arise. Office IT maintenance and support is a crucial aspect of maintaining the stability and reliability of a company's technology systems, and it helps to minimize downtime and reduce the risk of data loss. The maintenance and support process may involve internal IT staff, as well as external contractors or service providers.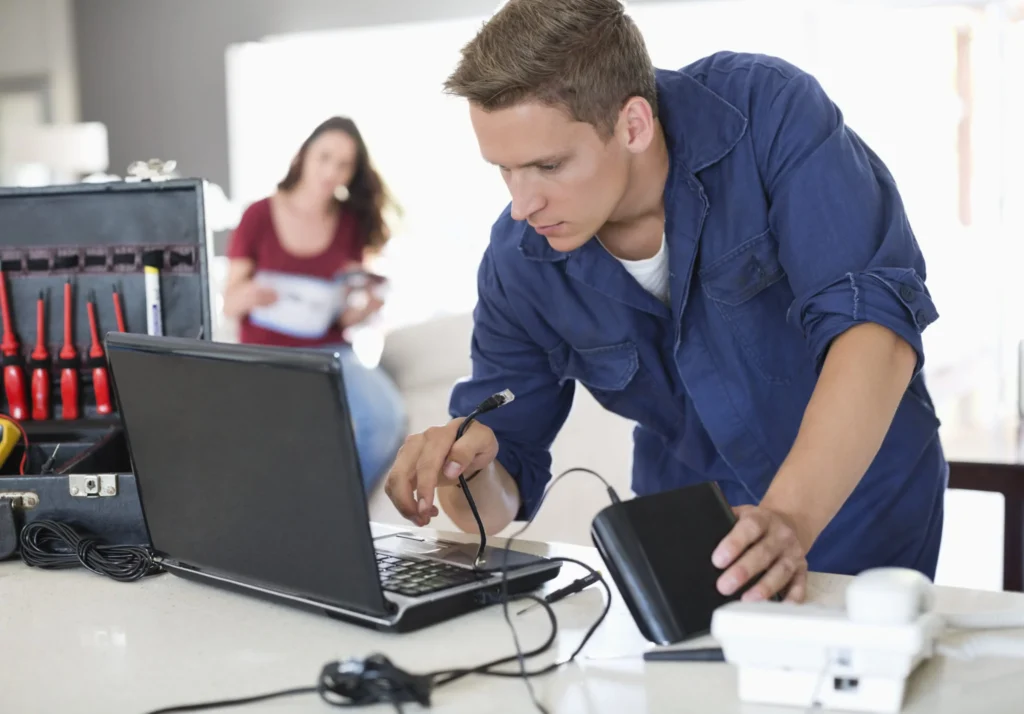 Residential Computer Repair and Service
Residential Data Recovery refers to the process of retrieving lost or inaccessible data from individual's personal technology devices such as laptops, desktop computers, or external hard drives. Data loss can occur due to a variety of reasons including hardware failure, software corruption, or accidental deletion. Data recovery services aim to restore this lost data, providing individuals with access to important personal and professional files, photos, and other data. These services can be performed on-site or in-shop, and often involve the use of specialized software and hardware tools to recover data from damaged or corrupted storage media.